I have started to put some very few pictures on Panoramio to enable you to follow my travels on GoogleEarth. The Panoramio collection is not intended to become a picture repository (for that purpose Flickr is a better and more popular choice anyway). The advantage of Panoramio is that it easily integrates with GoogleEarth and allows pictures to be shown at the right spot on GoogleEarth's globe of satellite pictures. Thus, you can follow me around the globe on GoogleEarth and figure out where all these places are, that I am hoping to see. Thus, I will only post one or at maximum two pictures per place on Panoramio as that is sufficient to find the places on GoogleEarth.
Here is how to use it:
One Time Setup
Install GoogleEarth in case you don't have it yet.
Download BirgersTour.kml, a very small (773 bytes) file with some bookmark and feed information for GoogleEarth.
Open BirgersTour.kml within GoogleEarth (if it does not do so automatically anyway then use "Open | File…" within GoogleEarth)You will now find a new network folder entry named "Birger's Tour" in the "Places" pane of the sidebar under "Temporary Places". (If you don't see the sidebar, then activate it via "View | Sidebar".)This is a feed of pictures! GoogleEarth just uses the information found in the kml file to load the actual list of pictures directly from Panoramio, very similar to an RSS feed. So whenever I add anything to Panoramio you will see these pictures immediately under this "Birger's Tour" folder in GoogleEarth.
Right-click on "Birger's Tour" and select "Save to My Places". That makes this entry permamently appear under "My Places", so you don't need to open BirgersTour.kml over and over again.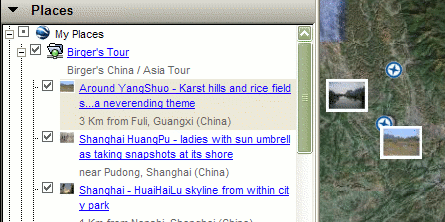 Usage within GoogleEarth
General Notes:
When single-clicking on the underlined name of an entry a window opens with the picture or other information.
When double-clicking on the underlined name of an entry then this information window opens and GoogleEarth moves to the correct position on the earth. To halt GoogleEarth's descend just click once into the satellite picture.
When double-clicking on the icon of an entry, then GoogleEarth only moves to the correct position without opening the information window.
Asia Overview
I have stored a view within the bookmark, that gives an overview of East Asia and should cover most of my travel area. You will see that view when just double-clicking the "Birger's Tour" entry.
Refresh
You can refresh the picture list at anytime by right-clicking on "Birger's Tour" and selecting "Refresh". Big Note, don't get confused: GoogleEarth refreshes the list based on the current view, so only pictures are listed, which can be placed within the current view within GoogleEarth! If you zoom out and refresh again you are likely to see more pictures listed and appearing on your view.
Find the place
where a specific picture has been taken: Just double-click on this picture's entry and GoogleEarth moves there.
Categories: Asia, General Infos
Originally Created: 06/01/2007 01:58:11 PM
Last Edited: 06/01/2007